Zo zagen bezoekers van de voorloper van Lowlands eruit​
Gepubliceerd op 30 okt. 2015 RTV Rijnmond
Pandora Music Box – week 44
Dertig jaar geleden was Pandora's Music Box Festival in de Rotterdamse Doelen dé grote voorganger van wat later Motel Mozaique en zelfs Lowlands zou worden.TV Rijnmond blikt terug met bezoekers van dit bijzondere muziekfestival, praat met de organisatie van toen. En wie zijn de mensen op al die festivalfoto's?
RTV Rijnmond 24 nov. 2017
Jarenlang werden ze als verloren beschouwd. De meer dan 6000 foto's die in 1985 werden gemaakt bij het muziek festival Pandora's Music Box in de Rotterdamse Doelen. Als onderdeel van het feest werden alle bezoekers bij de entree op de foto gezet door de roemruchte Rotterdamse fotograaf John Groot. Wie niet op de foto wilde, werd de toegang geweigerd.Het originele idee was om na het festival al die foto's met een raket de ruimte in te schieten. Daar kwam het nooit van. Kort na het festival ging de organisatie failliet. Niemand bekommerde zich daarna nog om de negatieven. Die raakten dan ook in vergetelheid.Tot er zich op social media steeds meer mensen begonnen af te vragen wat er met de foto's was gebeurd. Rotterdammer Evan van der Most begon een zoektocht – en vond ze in de kelder van een van de oprichters. Na maanden van inscannen stelt hij nu de eerste 135 afdrukken tentoon in zijn Rotterdamse galerie aan de Schiedamsedijk in Rotterdam.Rug"John was de hoofdaannemer voor de fotografie", vertelt Van der Most. "Hij had een stuk of zes, acht studiootjes gebouwd in de hal van De Doelen. Hij had heel veel assistenten. Van te voren was aangegeven dat je niet naar binnen mocht als je niet wilde. Maar je mocht wel met je rug naar de camera staan, of een zak over je hoofd trekken."Bezoekers van toen kunnen nu voor 50 euro een print van hun foto kopen. Met de opbrengsten gaat van der Most de overige foto's uitzoeken en een digitaal zoeksysteem bouwen voor de foto's.Was je er zelf bij, in 1985? Of ken je mensen die er waren?
Artikel in Vrij Nederland van 11 september 2015 over Pandora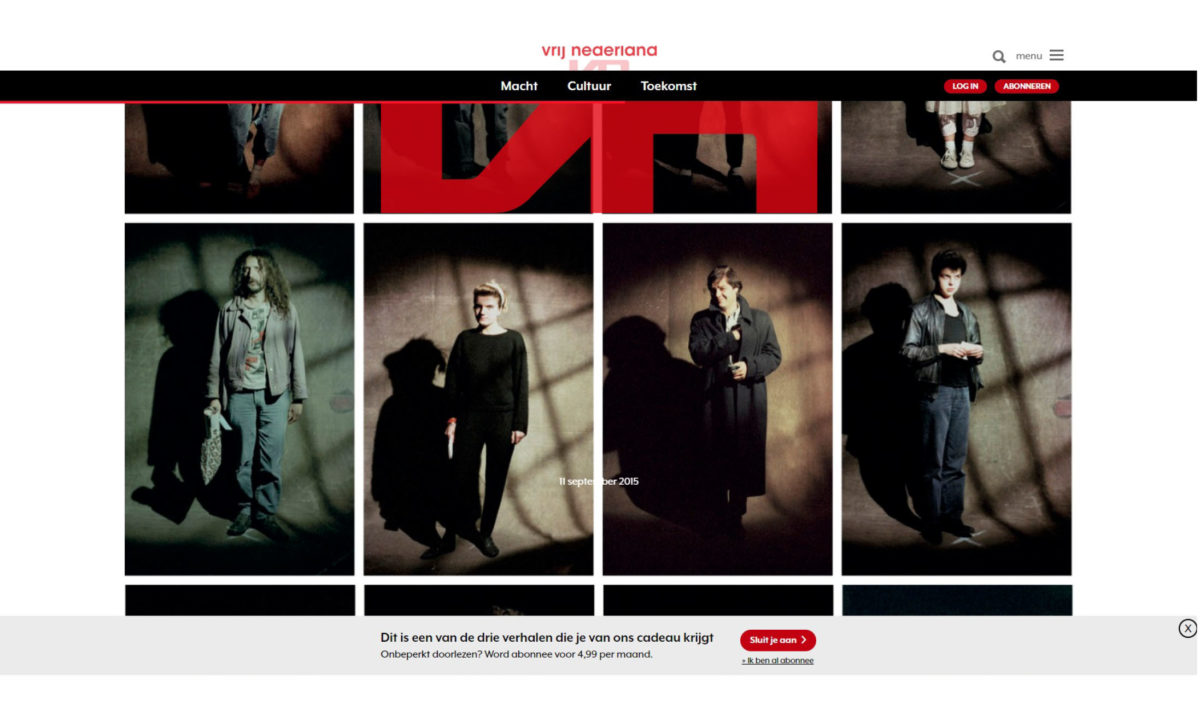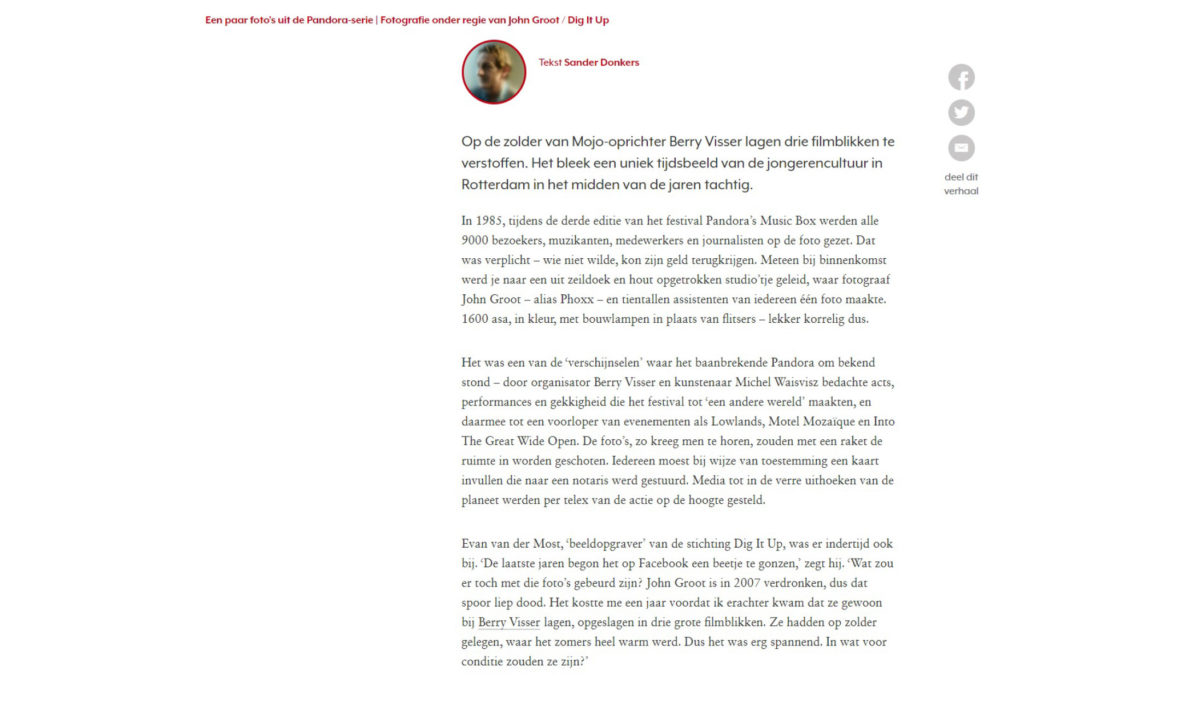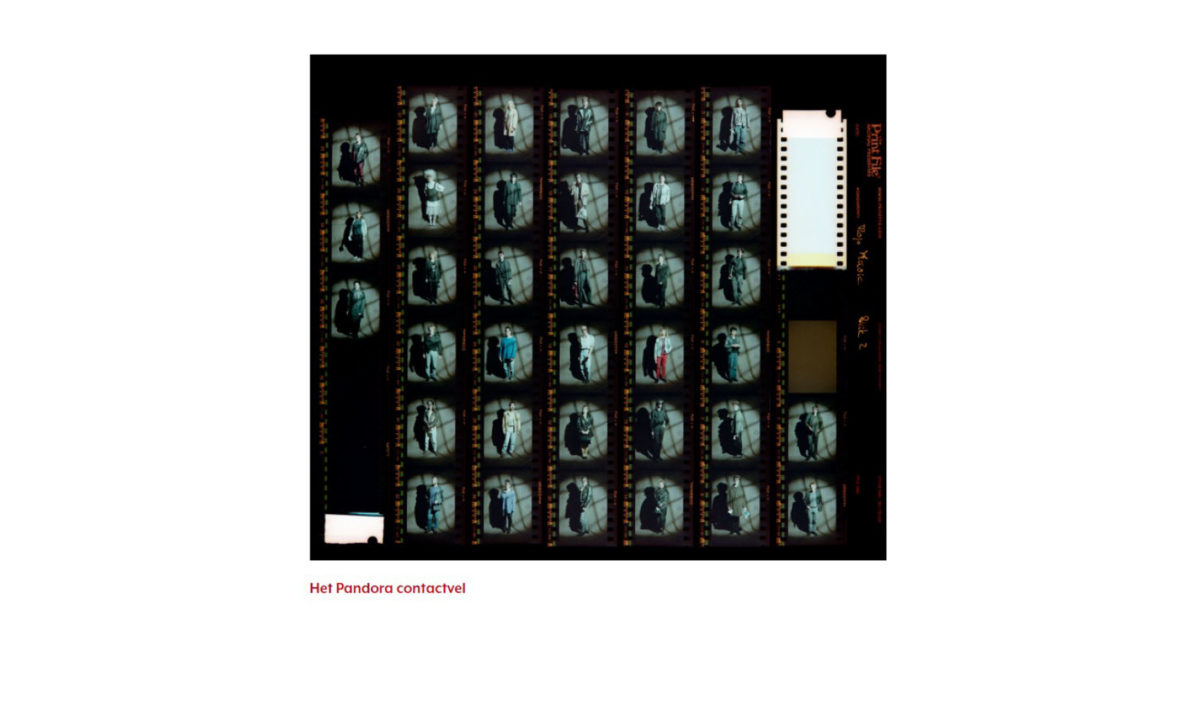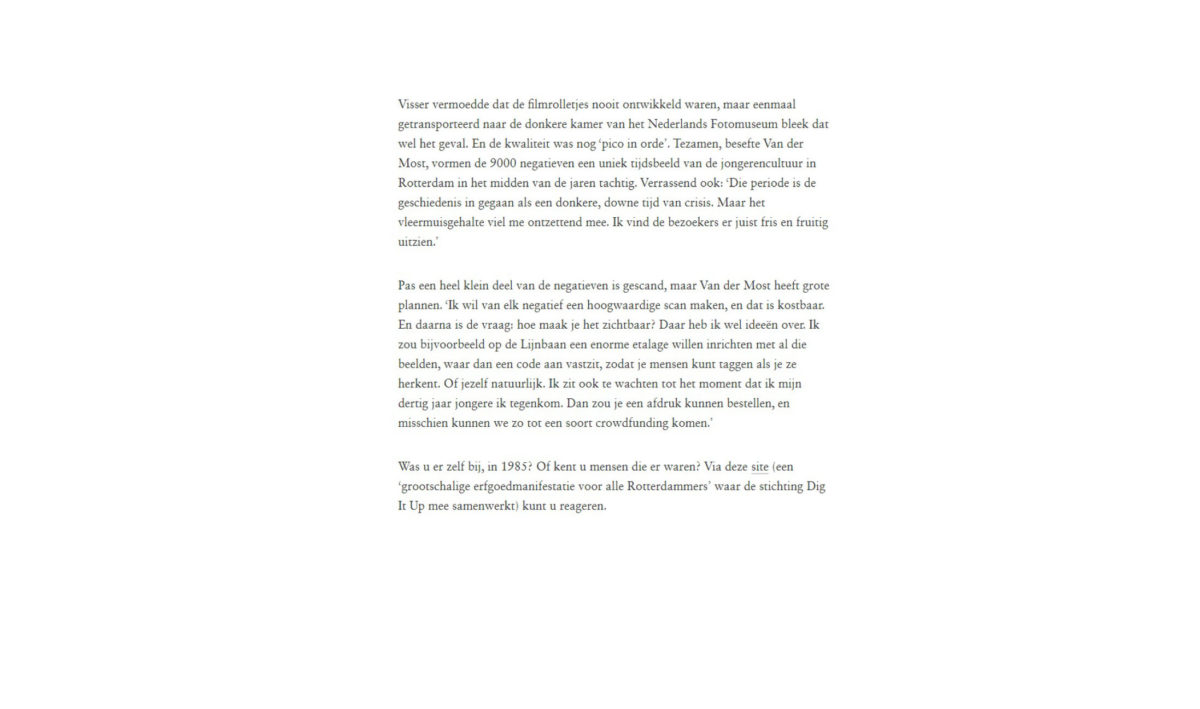 Youtube versie van het Pandora negatieven archief. 1,5 seconde per afbeelding, links onder in het beeld het nummer van de foto.