Speciale editie van Rotterdamse Zoldervondsten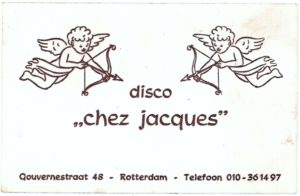 Op zondag 12 mei is er een speciale editie van Rotterdamse Zoldervondsten, de Roze Rotterdamse Zoldervondsten. Van 13.00 tot 17.00 uur ben je van harte welkom bij DIG IT UP galerie en erfgoedlab aan de Schiedamsedijk 62-A. We zijn erg benieuwd naar wat je die dag meebrengt. Heb je foto's, films negatieven, dia's, flyers of posters die de gay geschiedenis van Rotterdam helpen vast te leggen? Neem ze alsjeblieft mee! 
We zoeken ook naar memorabilia van gay horeca in Rotterdam, zoals visitekaartjes, voorwerpen of t-Shirts. Voorlichtingscondooms, speldjes, alles is welkom op 12 mei. Om 15.00 uur vertelt Connie van Gils van IHLIA over de erfgoedwaarde van gay en lesbo horeca in Nederland.
 IHLIA is een in Amsterdam gevestigde erfgoedorganisatie die zich nationaal en internationaal bezighoudt met het verzamelen en toegankelijk maken van informatie op het terrein van de lhbt-gemeenschap. Connie beoordeelt deze middag samen met  en expert van Stadsarchief Rotterdam de zoldervondsten op hun historische waarde.